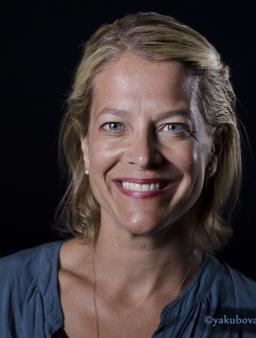 German & Environmental Humanities
University of Pennsylvania
Project Description
Climate prediction models agree that Philadelphia is becoming hotter and wetter. For Bethany Wiggin, this lends a sense of urgency to learning about the history and context of people's interaction with their environment as we adapt to higher temperatures. She will use her Public Engagement Fellowship to address this need through a collaborative, multi-disciplinary project called Floating on Warmer Waters that will explore the complex relationship of people and nature on the Lower Schuykill River, home to both refineries and bird sanctuaries.
Based jointly at Bartram's Garden, the oldest botanical garden in the Americas, and the University of Pennsylvania, Floating will engage historians, scientists, and visual artists to create new programming for the public – including the more than 10,000 middle- and high-school students who visit the Garden each year. Events will explore ecologically friendly living by placing it in the historical perspective of Philadelphia's Quaker past; consider the role of utopian ideologies in shaping development and conservation; and invite the public to engage in experiments in sustainability on a floating science lab created by artist Mary Mattingly.
Wiggin, the Founding Director of the Penn Project in Environmental Humanities, came to the field through her work on 18th-century German-American colonists, bringing a uniquely humanistic perspective and deep knowledge of local history to the challenges we will face in the coming decades. Floating will allow her to engage school children and university researchers, neighbors and city officials in conversations about history, nature, the built environment, and society that will change how view the world around them and the choices they make about it.
Biography
Bethany Wiggin is Associate Professor and Graduate Chair of German and affiliate faculty in English and Comparative Literature at the University of Pennsylvania. In 2014, she established the Penn Program in Environmental Humanities, a collective of students, faculty, staff, artists and writers at Penn and in the Philadelphia region who collaborate via interdisciplinary research, teaching, and imaginative public engagement. In 2016-17, she will direct the Penn Humanities Forum. She has published on topics ranging from early modern European globalism, religious radicals and their tolerance in the Atlantic world, the Atlantic slave trade and the anti-slavery movement, the rise of fashion and commodity culture (including the modern novel), World Literature and translation. At present, she is completing her second monograph Germanopolis: Utopia Found and Lost in Penn's Woods based on deep dives into colonial archives on both sides of the Atlantic. Born in Maine, she is an alumna of the Lawrenceville School and Swarthmore College; she completed her graduate work at the University of Minnesota before joining the faculty at Penn in 2003. She lives in Germantown in Philadelphia with her partner and two sons.
Project: Making a river's past, present, and future visible from America's oldest botanical garden