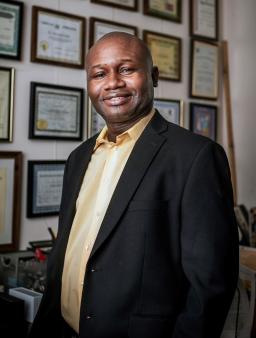 Project Description
What can a 1,000-dinar Algerian banknote depicting prehistoric cave art teach us about the evolution of African civilization? What is the story behind a $10 bill issued by the Bank of Canada featuring Viola Desmond, a Black businessperson and civil rights activist and the first Canadian woman to appear on a regularly circulating banknote? Because money has long played a pivotal role in how societies evolve, interact, clash, and make amends, a nation or culture's unique physical currency is a window into its history and values. The Black Money Exhibit, conceived by Harcourt Fuller to educate the public about the importance of money as a visual source of knowledge, uses paper money to explore 10,000 years of Black history, cultures, and lived experiences.

Displayed on "money trees" inspired by the iconic baobab, or "tree of life," native to the African savanna, the exhibit includes over 300 rare, obsolete, and currently circulating banknotes from more than 80 countries and territories in Africa, Europe, and the Americas. These serve as jumping-offs point to explore themes such as African civilizations and art, enslavement and freedom around the world, and Black music and dance. Following a successful pilot at the Auburn Avenue Research Library on African American Culture and History in 2018, Fuller and his collaborators will use the Fellowship to tour the exhibit across the US, produce an accompanying documentary and soundtrack, host a Black Money Talks discussion series, and develop lesson plans in consultation with middle- and high-school teachers.

With their multiplatform approach, Fuller and his team hope to use money – one of the most widely circulated forms of mass media in history – to engage a wide public in an examination of the cross-sections between history, culture, and currency, moving towards a richer understanding of Africa and the African Diaspora.
Biography
Harcourt Fuller is an associate professor of history at Georgia State University. He has published and lectured widely on the history of money in Africa and the African Diaspora, including articles in African Studies Quarterly, Nations and Nationalism, and African Arts, and appearances on Deutsche Welle, Germany's international broadcaster, United Nations Radio, and United Nations Web TV. He is the recipient of a 2018 Fulbright Global Scholar Award and the author of Building the Ghanaian Nation-State: Kwame Nkrumah's Symbolic Nationalism (Palgrave Macmillan, 2014), and co-editor of Money in Africa (Trustees of the British Museum, 2009). Fuller is also a producer of the documentary Queen Nanny: Legendary Maroon Chieftainess.
About the Project Team
Irvin Wheeler, Exhibition Designer, is an independent artist and arts educator whose career spans over 50 years.

Tracy Murrell, Exhibition Curator, is a visual artist and art consultant. Murrell served as resident curator for Hammonds House Museum.

Myrna Anderson-Fuller, Creative Director and Graphic Designer, is former Executive Director of Hammonds House Museum.

Dr. Gillian Lee-Fong, Education & Community Outreach Director, has over 10 years of experience as a teacher, counselor, and administrator for secondary and tertiary educational institutions, and at-risk populations.

Dr. Catherine Odari, Humanities Scholar. Dr. Odari a full-time lecturer at Spelman College, with responsibility for the African regional concentration within the major and teaching the signature African Diaspora and the World Program (ADW).

Cheryl Odeleye, Advisor/Editor/Exhibition Evaluator. Odeleye is former president of the Board of Directors of WRFG 89.3 FM and former director of the Southwest Arts Center.
Project: Black Money Exhibit: World Currencies Featuring African and African Diasporic History and Cultures