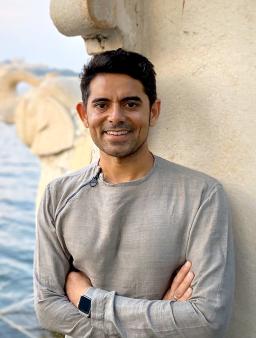 Project Description
In 2014 the Indian Supreme Court moved to expand legal recognition of transgender individuals as "third gender," and in 2018 it officially decriminalized homosexuality. But social attitudes have not kept pace with these hard-fought legal recognitions. Mainstream Indian society retains strong homophobic, transphobic, and patriarchal currents, reinforced by Bollywood celebrities and cricketers with campaigns like "Be a MARD!" ("Be a Man!"). And even though the patriarchal values and the caste system – a combination Harjant Gill calls "Mardistan" or "Macholand" – benefit upper-caste men and maintain their dominance to the detriment of women and sexual minorities, many Indian men struggle with expectations for traditional masculine roles and constraints on who and how they love, marry, and build families.

Gill will use the Fellowship to create Tales from Macholand, a nine-part immersive virtual-reality series that explores masculinity in Indian society. Filmed across northern India, the 360-video will draw on a popular form of entertainment known as "chalchitra," or bioscope-shows, dating back to India's colonial period, when traveling showmen would bring hand-operated bioscopes—ancestors of today's modern VR headsets—from village to village showing short films.

The series will chronicle the experiences of nine Indian men, women, and third-gender individuals of different caste and ethnic backgrounds who do not adhere to conventional gender roles and societal expectations. The immersive VR format, designed to foster experiential learning on mobile platforms, where Indian youth consume the majority of their media, will give audiences an opportunity to connect deeply with these stories on an interpersonal level. In collaboration with the Indian NGOs Men Against Violence and Abuse and The YP Foundation, Gill will use the series to engage Indian youth in conversations about how their lives are affected by gender, power, caste, and sexuality in Indian culture.
Biography
Harjant Gill is an award-winning filmmaker and associate professor of anthropology at Towson University. His research examines the intersections of masculinity, transnational mobility, and popular culture in India. His films include Mardistan (Macholand), which explores Indian manhood and issues of sexual violence, toxic masculinity, son preference, and homophobia; Roots of Love, which looks at the changing significance of hair and turbans among Sikhs in India; and Sent Away Boys, about how provincial communities in Indian state of Punjab are transformed by the exodus of young men giving up farming to seek a better future abroad. Gill is the recipient of a Fulbright-Nehru Award, a Performing Arts Fellowship from the American Institute of Indian Studies, a Career Enhancement Fellowship from the Institute for Citizens & Scholars and the Point Foundation Scholarship. Gill also co-directed the Society for Visual Anthropology Film & Media Festival (2012-2014) and co-edited the Multimodal Anthropologies section of American Anthropology Association's flagship journal American Anthropologist (2017-2020). He is fluent in Hindi and Punjabi.
About the Project Team
Working in collaboration with two NGOs based in New Delhi and Mumbai, the YP Foundation and Men Against Violence and Assault (MAVA), this nine-part VR series will be used to engage and educate Indian youth on urgent issues of gender equality and sexual minority rights. Founded in 1993 and based in Mumbai, MAVA has pioneered efforts to engage boys and men in India to address gender inequality and discrimination through routine workshops, symposiums, film festivals and gender sensitization training in university classrooms and corporate boardrooms all across India. Founded in 2002 and based in New Delhi NCR, the YP Foundation is a youth run and led organization that supports and develops youth leadership to advance rights of Indian women, girls, transgender individuals and sexual minorities while specializing in digital programming on gender issues. 
Project: Tales from Macholand