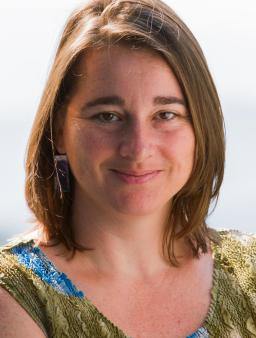 English & American Studies
Project Description
Awikhigan is an Abenaki word that originally referred to writing on birchbark but has evolved to include bound books, letters, and maps. In her Fellowship project, Lisa Brooks will push the meaning further still, to encompass digital storytelling that explores the multiple narratives that make up history.
Brooks will collaborate with teachers, students, and tribal historians to build an educational website about King Philip's War, a seminal colonial event that transformed 17th-century America and proportionally the bloodiest war in our history. She will guide users through the complex historical geography of this sprawling conflict with an array of primary sources. While bringing to life the best-known aspects of the war, the site will emphasize stories not often covered in secondary schools, such as the role of Weetamoo, a female Wampanoag leader who was at least as powerful as King Philip himself and as decisive in the course of the war. Interactive digital maps will enliven the narrative by tracing historic trails and waterways, Native towns and territories, colonial settlements, and crucial sites of refuge and subsistence. To ensure the site succeeds both in and out of the classroom, Brooks will pilot and refine it with educators, the Five College Partnership Program, and two non-profits, Primary Source and Gedakina.
As a leading scholar of Native American studies, Brooks draws upon Abenaki culture to reexamine the past from new viewpoints. She is also deeply committed to public scholarship, and she has consulted for a host of historical societies and museums. With her Fellowship project, she will empower students and the public to better understand the Native histories and places that are embedded within "New England."
Biography
Lisa Brooks is an Abenaki writer and scholar – her father's family is from the upper Missisquoi River (in northern Vermont) and the Pemigewasset River (in northern New Hampshire). Her mother's family is from Koszarawa, Poland. She currently lives in the Connecticut River Valley, where she works as an Associate Professor of English and American Studies at Amherst College, and Chair of the Five College Native American and Indigenous Studies Program. Prior to joining the faculty at Amherst, Brooks was John L. Loeb Associate Professor of the Humanities at Harvard University. While an undergraduate at Goddard College, Brooks worked in the tribal office of the Abenaki Nation of Missisquoi, on aboriginal rights and land preservation cases. She received her Ph.D. in English, with a minor in American Indian Studies, from Cornell University in 2004. Her first book, The Common Pot: The Recovery of Native Space in the Northeast (University of Minnesota Press 2008), focused on the role of writing as a tool of social reconstruction and land reclamation in the Native northeast. Although rooted in her Abenaki homeland, Brooks's scholarship has been widely influential in transnational networks. She co-authored the collaborative volume, Reasoning Together: The Native Critics Collective (2008), and wrote the "Afterword" for American Indian Literary Nationalism (2006). She served on the inaugural Council of the Native American and Indigenous Studies Association (NAISA), and currently serves on the Editorial Board of Studies in American Indian Literatures and Ethnohistory, as well as the Advisory Board of Gedakina, a non-profit organization focused on Indigenous cultural revitalization, educational outreach, and community wellness in New England. Brooks's most recent project is The Queen's Right, the Printer's Revolt, and the Place of Peace, a book that reframes the historical landscape of "the first Indian War," more widely known as King Philip's War (forthcoming from Yale University Press in 2017).
Project: A resource for teachers about the historical geography of King Philip's War