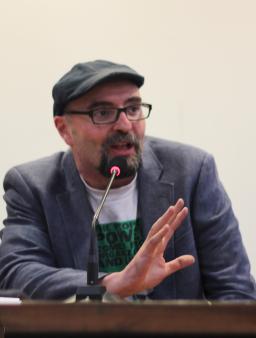 University of California, San Diego
Project Description
Cellphones, laptops, and electric cars – the indispensable accoutrements of modern life are mostly powered by rechargeable batteries made with lithium. As demand for the rare earth mineral continues to grow, mining has accelerated in the Andean salt lakes that house 85% of the world's lithium reserves, transforming the lives of the Kolla, Atacama and Aymara people who live in this so-called Saudi Arabia of lithium. Luis Martín-Cabrera will use the Fellowship to build a transnational, digital forum to spread understanding of these communities and their challenges, adding their voices to the ongoing conversation about extraction among governments, businesses, social movements, consumers, non-profits, and local leaders.
Hosting first-person testimony, interactive maps, a documentary film, and audio and visual media, the online platform will be a valuable resource for journalists, scholars, activists, and others seeking to understand the human and ecological consequences of the mining. More important, Martín-Cabrera will design the site to be used by the indigenous communities themselves, overcoming barriers of language, geography, and education to communicate new and neglected perspectives on the complicated issues in the region.
Martín-Cabrera will be building on his experience directing the Spanish Civil War Memory Project, which collected over 100 testimonies from survivors of the war into a vital tool for information on Franco's regime. His Fellowship project will put his expertise to work to help address critical global questions in our lithium-dependent age.
Biography
Luis Martín-Cabrera is an Associate Professor in the Department of Literature at the University of California, San Diego. He is also affiliated faculty in the Department of Ethnic Studies, the Critical Gender Studies Program, and the Center for Iberian and Latin American Studies. A specialist in Spanish and Latin American Cultural Studies, Martín-Cabrera received a B.A. in French and Spanish from the University of Salamanca (Spain), an MA in Latin American Studies from Yale University, and a PhD in Romance Languages and Literatures from the University of Michigan, Ann Arbor.
Martín-Cabrera's research focuses primarily on the relationship between culture and politics. He is the author of two books – Radical Justice: Spain and the Southern Cone beyond Market and State (2011) and Invisible Insurgencies: Activism and Resistance in the United States (Madrid, La Oveja Roja, 2015) - and numerous research articles, as well as a frequent contributor to alternative media outlets. In addition, Martín-Cabrera is the Director of The Spanish Civil War Memory Project, a UCSD initiative to collect testimonies of the victims of Human Rights violation in Spain during the war and the ensuing dictatorship. He is currently Director of the University of California's Education Abroad Program in Chile, where he has lived since 2013.
Project: An Investigation into the South American Lithium Triangle