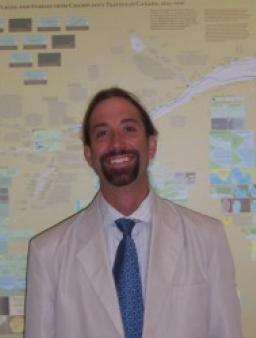 History and Native American Studies
Project Description
In the 1950s, ethnographer Nicholas Smith began a series of weekly conversations with Sabattis Tomah, an important keeper of the traditions of the Passamaquoddy tribe that lives in Maine and New Brunswick. Before Tomah died in 1954, Smith recorded several notebooks of ceremonial songs, medicinal plants, and stories that had been handed down within the community for generations. Until recently, this treasure trove of information remained in private hands, untranscribed and unavailable to members of the tribe.
Micah Pawling's Fellowship project will support Passamaquoddy historians, elders, and citizens as they extend that knowledge and reintroduce it back into their community. Collaborating with Passamaquoddy historian Donald Soctomah and Smith himself, Pawling will help sort and annotate Smith's field notes for an exhibit housed in Indian Township. They will pair this with a series of intergenerational workshops that draws on the oral tradition of Passamaquoddy culture, training young members of the community to interview their elders and unearth memories of Sabbatis Tomah and his legacy. The fruits of this rediscovery will ultimately be adapted into digital resources using Mukurtu, a platform for indigenous communities to preserve and share their cultural heritage.
Pawling's project combines outside scholarly work with knowledge that arises from within the community, ensuring tribal members are active participants in telling their own story and embodying the vital importance of community engagement as a historical methodology.
Biography
Micah Pawling is an assistant professor of Native American Studies and History at the University of Maine. He is the editor of Wabanaki Homeland and the New State of Maine (University of Massachusetts Press, 2007). Pawling has been involved in extensive community engagement with the Wabanaki peoples of Maine, and his research has been used by the Passamaquoddy Nation to obtain federal recognition in Canada. He has consulted with tribal leaders, the U.S. Department of Justice, and the Maine Humanities Council, and has presented his research in a number of public lectures at historical societies, churches, and high schools.
Project: The Sabattis Tomah Project