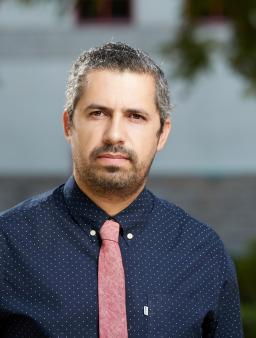 Claremont Graduate University
Project Description
The city of El Monte, in California's San Gabriel Valley, has long championed its white pioneer narrative, celebrating American expansion and movement west by hailing pioneer ancestors as rugged innovators and town heroes. In 1934, white El Monte residents staged the first "El Monte Pioneer Homecoming," with men, women, and children parading through the streets dressed in their grandparents' and great-grandparents' old overalls and sunbonnets, and mounted an ambitious 500-actor performance of The End of the Santa Fe Trail at El Monte High School. Later iterations of the celebration featured a 5-mile parade of covered wagons and horse-drawn buggies, rifle tournaments, and quilt and antiquity showcases.

This version of El Monte's history has become engrained in the city's landscape: it is still embedded in the official city logo, proudly memorialized at Pioneer Park, and narrated in the city's museum. But in placing white pioneers at the center, the story El Monte tells about itself neglects the region's many non-white ethnic residents past and present—from the Tongva tribe to Mexican braceros to thriving Asian neighborhoods—and their important place in local history. 

In 2012, the South El Monte Arts Posse (SEMAP), a collective of writers, scholars, urban planners, and educators based in El Monte and South El Monte, took the city's centennial as an opportunity to encourage new approaches to understanding and conveying the reality of El Monte's past and present. They launched what would become a multi-year public history and place-making project titled "East of East: Mapping Community Narratives in South El Monte and El Monte" to uncover, organize, and publicize El Monte's multi-ethnic history. Since then, SEMAP has worked with archivists, educators, historians, artists, nonprofits and community members to host discussions and bike tours, conduct oral history interviews and digitize city and personal archives.

SEMAP co-director Romeo Guzman and a host of collaborators will use the Fellowship to build on this work to tell a multi-ethnic history from the Tongva through twenty-first century globalization. They will create new curriculum for Ethnic Studies courses at El Monte high schools, design and lead thematic bike rides that engage the public in the complex history told by the city's streets and public spaces, and work with the community to design and paint a mural with new visual iconography for the city's past. In all their work, Guzman and SEMAP hope the cumulative effect of these initiatives will be to make El Monte's true past visible in its physical landscape, embed it in residents' minds and spirits, and bring a new generation closer to knowing its own history.
Biography
Romeo Guzmán is an assistant professor of history at Claremont Graduate University. Prior to joining the faculty at CGU, he was an assistant professor at California State University, Fresno, where he founded and directed The Valley Public History Initiative. Since 2012 he has co-directed, with Carribean Fragoza, the South El Monte Arts Posse's public history project "East of East: Mapping Community Narratives in El Monte and South El Monte," which has resulted in the publication of East of East: The Making of Greater El Monte (Rutgers 2020). His public history projects have been supported by California Humanities, the Los Angeles City Department of Cultural Affairs, the National Performance Network, and the National Endowment for the Humanities. Guzmán is the co-editor of Boom California, an open-access and public-facing online journal of UC Press, and is currently working on a book, Orphans of the Nation: Mexican-Americans, Transnational Citizenship, and Belonging, the 1920s to 1940s.
About the Project Team
Keeping with SEMAP's interdisciplinary and collaborative spirit, Dr. Guzmán will work a range of partners.

Muralists Alonso Delgadillo and Fernando Corona will work with Progress Brewing, Carribean Fragoza, and community members to paint a new mural based on Greater El Monte's past. 

Dr. Guzmán's Archives 311 Graduate Course at Claremont Graduate University and Active SGV will create five thematic bike and walking tours. Four artists—including Vincent Ramos, Phung Huynh, and Daniel Gonzalez—will create maps for each tour. 

El Monte Union High School District administrators, teachers, students, and East of East: The Making of Greater El Monte editors and authors will work together to build curriculum for Ethnic Studies courses. 

Claremont Graduate University's Division of Digital Strategies and Scholarship and PhD candidate Myles Mikulic will help build and house SEMAP's new digital archive. 

Tongva/Chicana elder and El Monte resident Gloria Arellanes will provide guidance, support, and input.
Project: East of East: Recovering Greater El Monte's Lost Histories