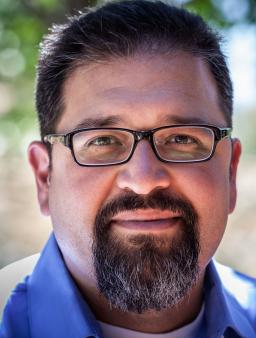 History and Chicana/o Latina/o Studies
Project Description
United States' involvement in Vietnam began over fifty years ago. As the veteran population continues to age, it has become vital to record their stories and trace the ways their military service affected their lives, for good and bad. Like all segments of the Vietnam-era population, Latinos were uniquely and particularly altered by the war. Almost one out of five Latino men of eligible age served. Their experiences forever altered their relationship to the nation, influencing their views on immigration, race, patriotism, and the role of the United States in global politics.
Tomás Summers Sandoval has collected dozens of oral histories with Latino Vietnam veterans to inform his scholarship. His Fellowship project will curate these into a piece of storytelling theater to be shared actively within and beyond the Latino community. He will work with a handful of veterans to turn their stories into performance pieces and with professional theater artists to coach them throughout rehearsals. The resulting work will be performed for live audiences in East Los Angeles and recorded for wider dissemination.
Ring of Red proposes to use the transformational power of theater to bring audiences of students, fellow veterans, and other community members into direct experience of the veterans' lives. For Summers Sandoval, the project is personal: he is a California Latino whose own father and uncle served in the war. As he helps bring to life the story of individual veterans, he will also be telling the story of a community – his own.
Biography
Tomás F. Summers Sandoval, Jr., is an associate professor of History and Chicana/o Latina/o Studies at Pomona College, where he has twice received the Distinguished Professor Award for teaching. His research interests revolve around the history of Latinos in the United States, with a particular emphasis on California and the Southwest. His first book, Latinos at the Golden Gate: Creating Community and Identity in San Francisco (University of North Carolina Press, 2013), the first book-length history of Latinos in San Francisco, explored the past to make sense of the impending Latino ascendency in the West.
An accomplished oral historian, Summers Sandoval has collected over fifty histories from Latino Vietnam veterans for the Library of Congress's Veterans History Project. In addition to providing the basis for his Public Engagement Fellowship project, these will be compiled into a book about the impact of the war on Latino communities. His work on Latino baby boomers has been covered by outlets such as the Los Angeles Times and NPR's California Report.
Project: Ring of Red: Latino Testimonies of the Vietnam War